So Saturday morning I picked 'em, Saturday afternoon, I gave some away, and Saturday night we ate 'em. Yum, so good, Summer sweet strawberries.
...and I still had a lot left over, a lot. And now I was in a dilemma, what to do with them, I knew Monday after returning from work they would be well, not so fresh.
I asked a few ladies picking what their plans were with them and they all replied jam. And while I do love jam and will graciously take a jar or two if a fine jam maker is willing to part with their homemade gift, but I am not a jam maker. And I will gladly enjoy a serving of strawberry shortcake, but it's not a dessert that would end up entirely being consumed in our house of two strawberry lovers and one four legged dog-child. I thought about freezing these little ruby gems but they are so fragile and so perfect, sending them to the deep freeze along with the peas, corn and other cast offs buried in the freezer, forgotten about, did not seem worthy of their greatness. No offense to pea and corn lovers but they are a little heartier than these delicate berries.
And then I remembered a recipe I saw a few years ago on Smitten Kitchen, calling only for the kind of strawberries found locally and picked at their absolute peak.
Deb, from Smitten Kitchen, described the
recipe
like this,
"When Monday rolls around and the strawberries are on their last legs, if you listen closely to them, they'll tell you that this cake is how they'd like to go out."
And since I would be working Monday but was home today, I decide to give it a whirl!
With over a pound of fruit and her comment describing "puddles of jam", I was well,
smitten
. And if you like the term "puddles of jam" as much as I do you'll be quite happy by the end of this post, because it's going to happen a lot.
"The strawberries take over. Nobody complains. The cake is short on steps but long on baking time, and in that hour that it hangs out in your oven, those strawberries turn into puddles of jam. The batter buckles around the receding berries, which dimple like a country quilt and the edges of the cake become faintly crisp."
I can only say she had me at, "puddles of jam", buckling batter, a country quilt, and faintly crisp,
And of course I had to used my blueberry pie dish from LL Bean's, a gift from my Momma. I think my favorite part was gently tucking each one into this billowy batter.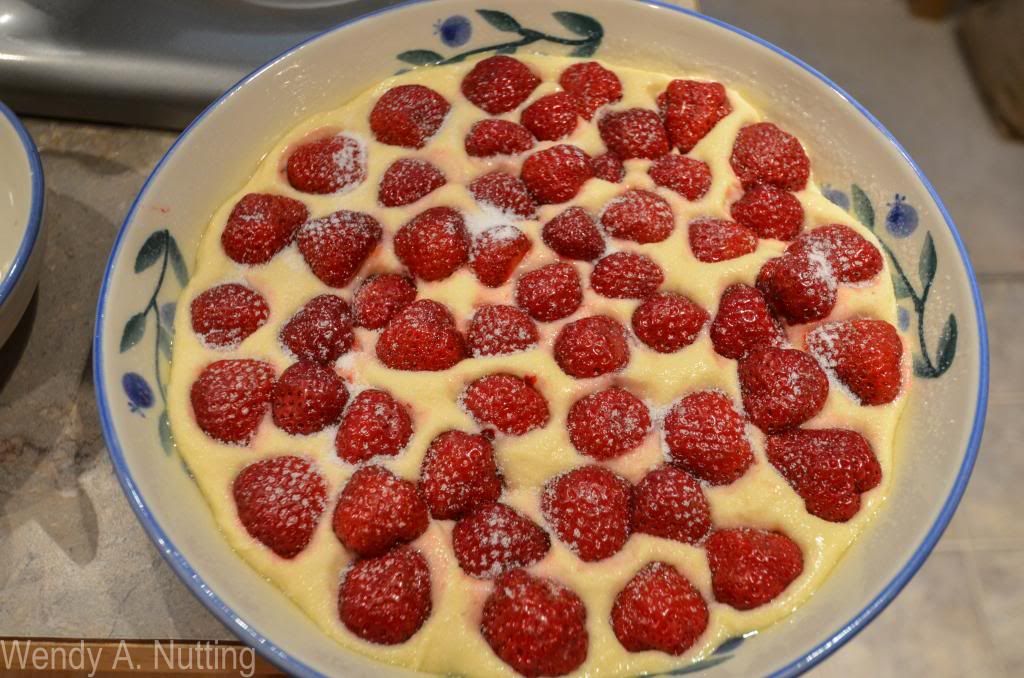 Just over an hour later, behold perfect "puddles of jam!"
This cake is yummy! Beautifully rustic, which I love. Crisp, delicately sweet, and bursting with the flavor of summer.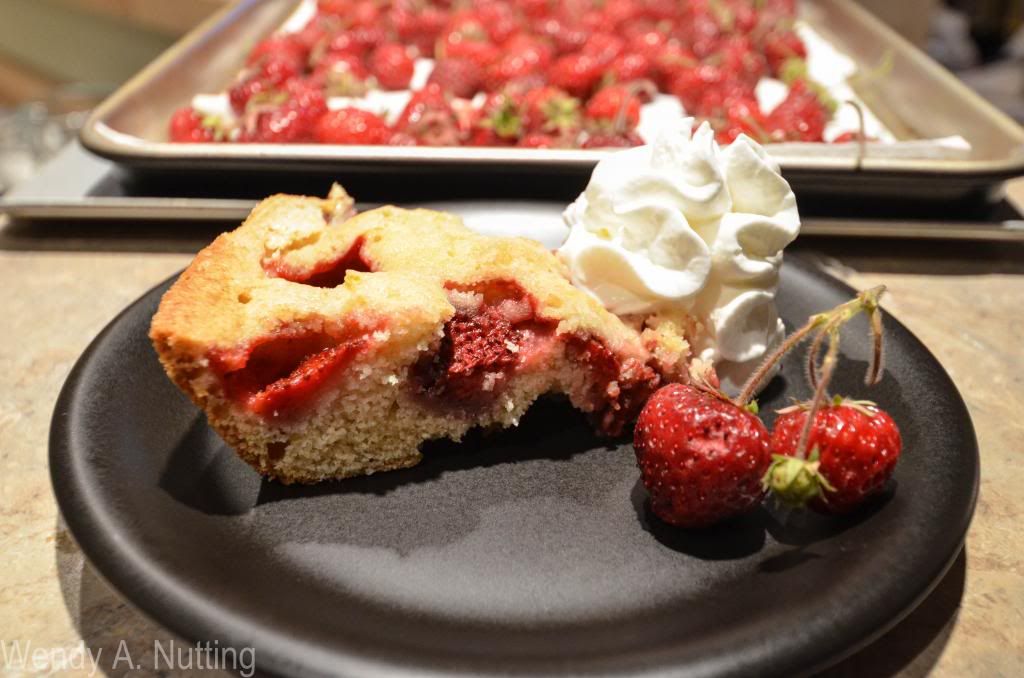 And by the way, in my last post I ended requesting Summer to stay awhile and as always, in Seattle, just when you have a lovely, sunny, warm day, you can almost bet in less then 24 hours the rain will return. I wonder if it's Mother Natures cruel joke or a just reminder to be grateful and savor each fleeting moment. And speaking of fleeting moments, the remainder of my strawberries and this beautiful cake will be gone by the end of the week but we will savor each bite and hope the sun will return soon. And it may be raining outside but we are thoroughly enjoying our little "puddles of jam" inside, because we are nothing if not grateful.
Have a lovely week!
Many thanks to the
Biringer Farm
for the sweet berries in this post!