Fifty years of anything requires a grand party, but 50 years of marriage and all that that brings with it, is exceptional. We wanted to celebrate this commitment they made to each other, as well as our family, surrounded by love and friendship.
This was BIG.
We were excited to create a space that was festive, whimsical, and filled with celebration. Within the past year we orchestrated obtaining original wedding photos from their beloved and highly guarded album, we devised a plan to get a hold of and copy Mom's address book, A-Z, and we phoned her work to ensure that she would have the day and following week off. We had lists and checked items off as we went along, guest list, restaurant, menu, cake, favors, decorations and so on; check, check, and check.
July 7th, 1962
Friday we worked on decorations. We were running around town picking up a few final items when my brother called to inform us there was an issue with the helium tank we had scheduled for him to pick up, apparently there is a helium shortage; who knew? After a few calls and a bit of concern, the gas company did allow us enough helium required for the number of balloons we had purchased, "Thank you", MaineOxy.

We spent the rest of the afternoon prepping at my sisters home.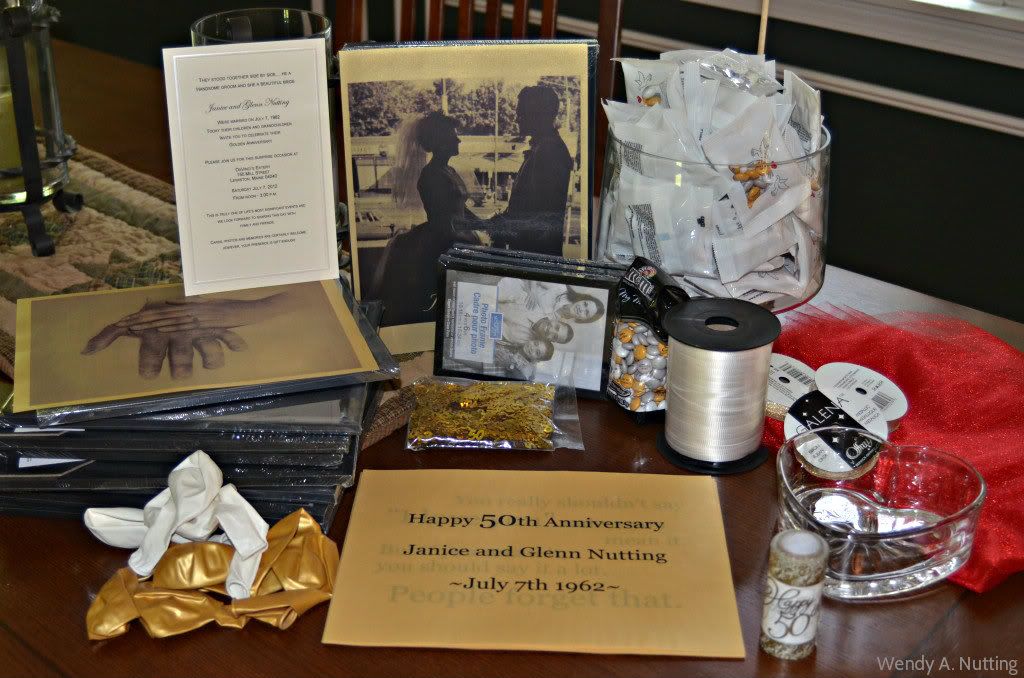 It was fun looking over old photographs, and we joked about the possibility of Mom stopping by unannounced, just then my phone rang and displayed my parents phone number, I was entirely caught off guard so I did what I thought was right and I let the call go to voice mail, yikes!
That evening my sister, brother and I, along with our mates, met with dear friends for dinner. The Sedgley Place is a stately Federal home built in 1876 that has been turned into a true Country Inn Dining experience.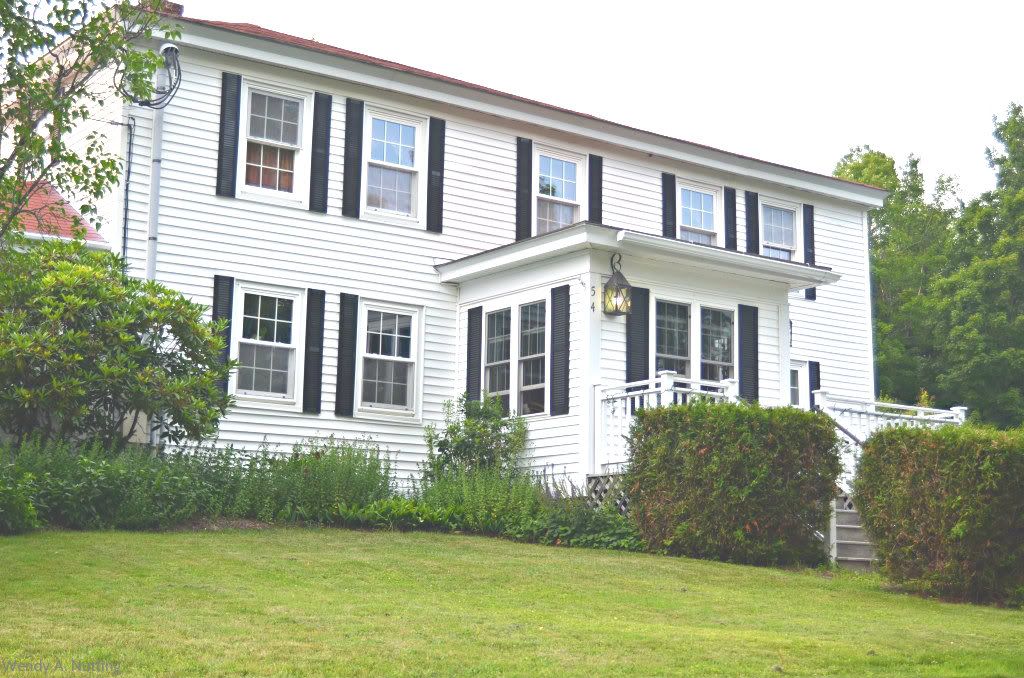 The Sedgley Place serves a lovely five course meal family style, which was exactly what we needed.
We have known these friends since we were "littles" and it was fabulous to recall fond memories, catch up on current times and hear them recant stories of our parents back in the day. There was a lot of laughter and love that night and we chatted long after dinner in the parking lot, until the mosquitoes chased us back to our vehicles.
Saturday morning all hands were busy. The excitement of our small group of family and friends who offered to help, filled this old textile mill turned Italian restaurant with fun and merriment.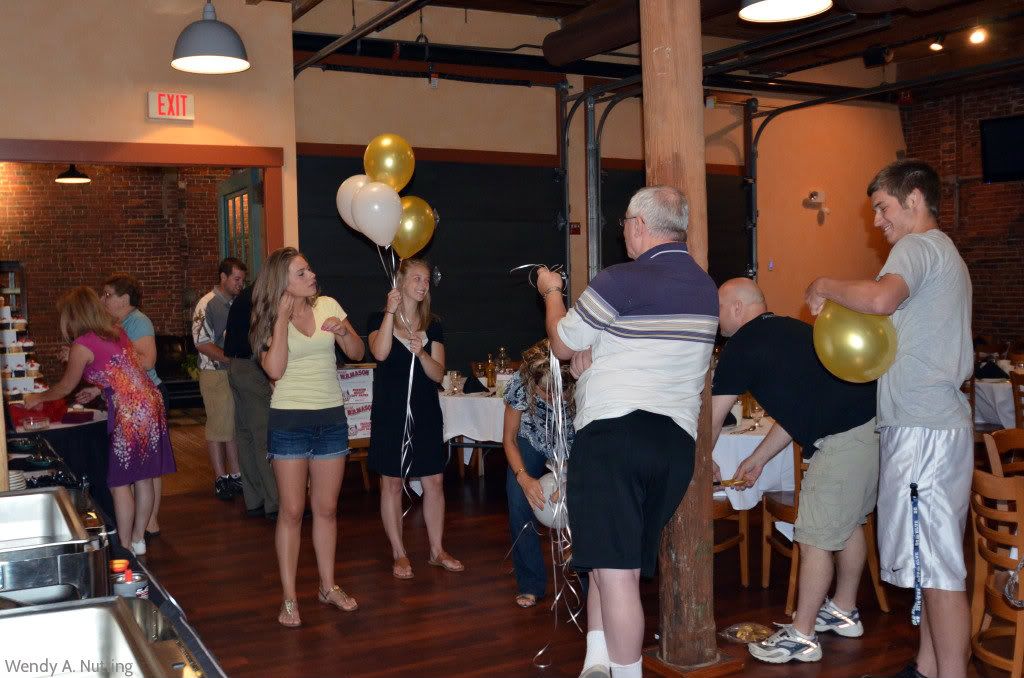 Everything came together beautifully.
Up went the cupcake tower,
...up went the banner,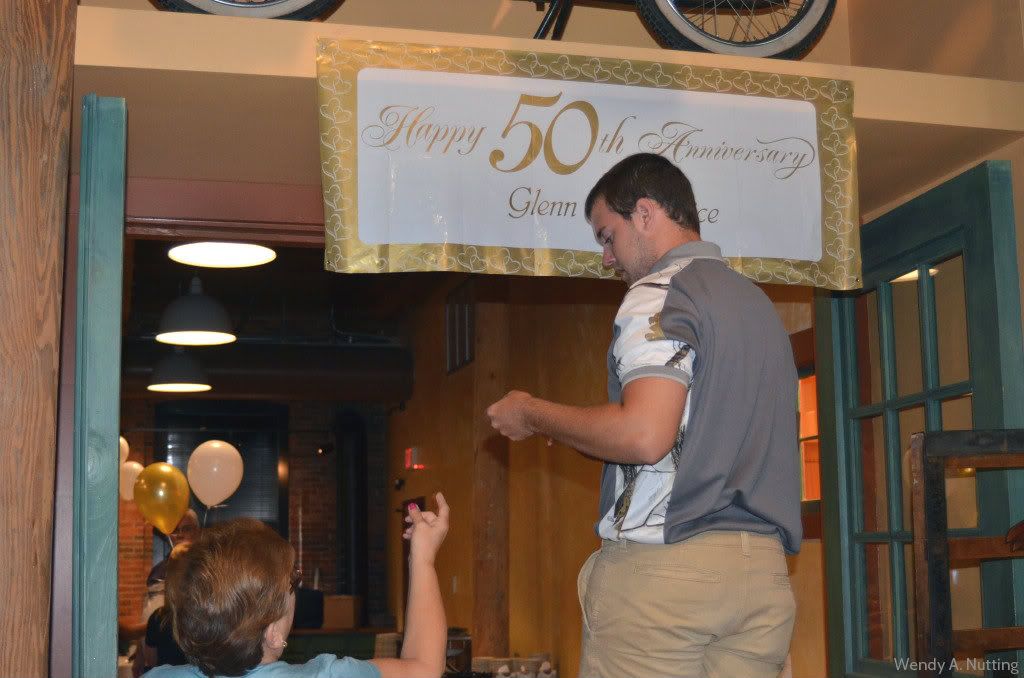 ...and up went the balloons.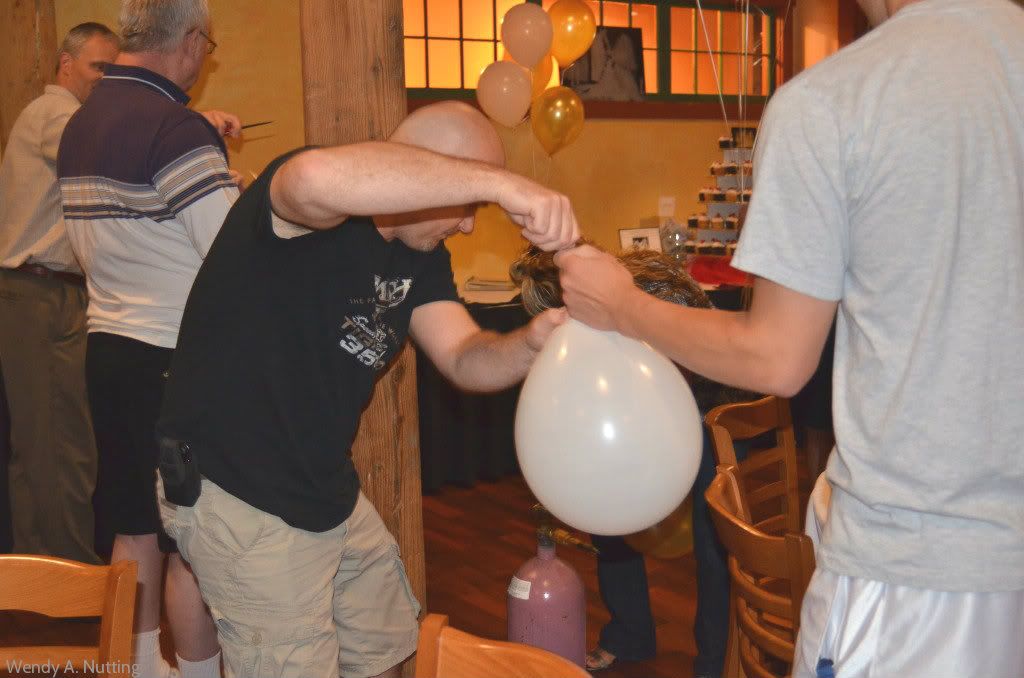 Such beautiful girls.
We were done ahead of schedule and the room was perfectly festive in gold and white. Apothecary jars held 1960's era candy, we had their wedding photos enlarged and scattered about the room, and a chalk board easel displayed trivia which reminded us how the times have changed since 1962.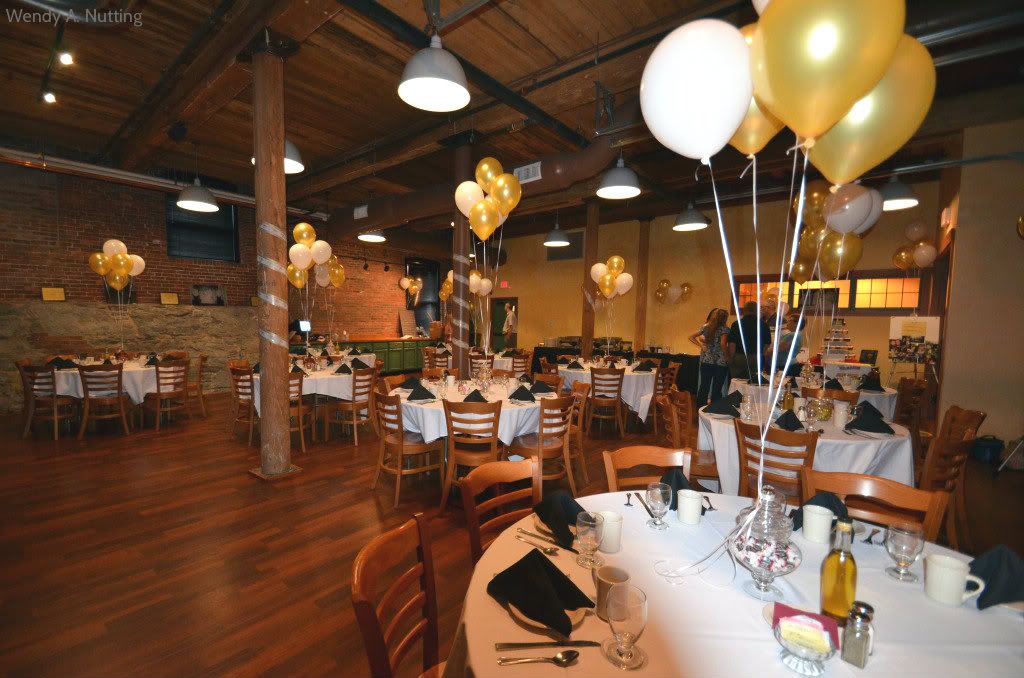 A little post prepping sibling chat.
The scene was set, the guests started arriving right on time and the happy couple were en route.